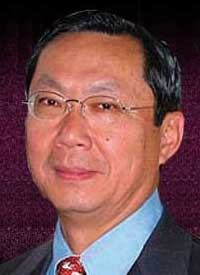 Hansen A. Yuan, MD
Hansen A. Yuan, MD, USA
Past President – 2007-2008
Doctor Hansen A. Yuan is a Professor of Orthopaedic and Neurological Surgery at the State University of New York (SUNY) Upstate Medical University. He holds hospital appointments at SUNY Upstate Medical Center, Crouse-Irving Memorial Hospital and Veterans Administration Hospital.
Dr. Yuan earned his medical degree from the University of Michigan Medical School. His surgery Internship and Orthopaedic Surgery Residency were at the State University of New York, Upstate Medical Center. Dr. Yuan was in a post-graduate Fellowship with Dr. Leon Wiltse specializing on low back and cervical pain. During his medical studies and fellowships, Dr. Yuan served in the United States Army for a total of six years.
Dr. Yuan holds membership in many professional societies a few of which include: the American Medical Association, Orthopaedic Research Society, American Academy of Orthopaedic Research Society, American College of Surgeons, International Society for the Study of the Lumbar Spine, Past President of The North  American Spine Society, and the Scoliosis Research Society. Many of these societies have honored Dr. Yuan's research and writing with grants and research awards.
Dr. Yuan has authored over 100 articles and many abstracts published in peer-reviewed journals. He has been a contributing author of 16 chapters to medical books. Dr. Yuan researches in the areas of degenerative disc disease, scoliosis, and bone healing and bone substitute. In North America and Asia, universities and hospitals invite Dr. Yuan as a visiting professor. Many times, he has been a Presidential Guest to the Republic of China speaking on Orthopaedic Surgery.