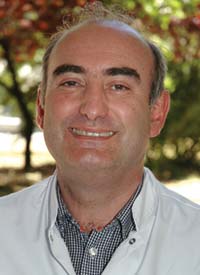 Jean-Charles LeHuec, MD, PhD
Jean-Charles LeHuec, MD, PhD, France
Past President 2011-2012
Jean-Charles LeHuec, born in 1958,  completed all of his education in his homeland, France.  His initial degree was received in 1985 in applied statistics in biology, with a second degree in anatomy and organogenisis in 1986.  Also completed in 1986 was a Master's equivalent in Human Biology with emphasis in anatomy. In 1987 he was fellow in Montreal (Canada) and participated in various research project (spine). In 1987 he received an additional degree in the Biology of Sports medicine and in 1989 he completed studies in Microsurgery  followed by General Surgery in 1990.
JC LeHuec became a medical doctor in 1987 and continued his studies in Biomechanics and Biomaterials completing his initial studies in 1990 and receiving his physical doctorate in 1997.  In 1998 he became a Professor of orthopaedics and traumatology. He is now the chairman of the spine unit  and orthopaedic department at Bordeaux university hospital.
Professor LeHuec is a member of the French College and Society of Orthopaedic Surgery, board member of the Spine Society of Europe (SSE), member of ISSLS and of  the North American Spine Society (NASS), World Spine Society (board member).
Professor LeHuec is Chief of Spine Unit and chairman of Department of Orthopaedic and Traumatology at the Bordeaux University Hospital. He is Director of the laboratory of surgical research at the Bordeaux University School of Medicine.  Professor LeHuec has numerous publications and participates in numerous research projects about spine pathologies, biomaterials and computer assisted surgery.