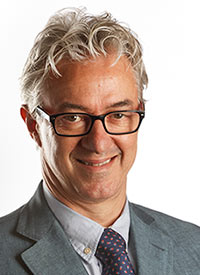 Massimo Balsano, MD
Massimo Balsano, MD, Italy
Massimo Balsano, MD is an orthopedic spine surgeon. He was born in Padova, Italy and graduated from University of Padova in 1983, the second oldest Italian University and a leader in the field of Italian medicine.
Dr. Balsano continued to complete his residency at the Orthopedic University Trust  of Padova, where he focused on spinal pathologies. Dr. Balsano's area of interest were  spinal deformities and traumatology. After becoming an assistant physician in the Scoliosis Section of the University of Padova's Orthopedic Clinic in 1989, he began performing surgery, specializing in different spinal pathologies, which included adult and child deformities, failed-back syndrome, and herniated disc and traumatology.
Dr. Balsano completed another residency at the Minnesota Spine Foundation of Minneapolis, Minnesota in 1994. He also has spent time at various other institutions within the United States and Europe, including the Spine Institute for Special Surgery of Louisville, Kentucky; the Atlantic Orthopaedic Specialists of Virgina Beach, Virginia; the Spine Centre of Karlsbad-Langensteinbach, Germany; and the Hospital Pitie'Salpetriere of Paris, France.
Since 2000, Dr. Balsano has been Chief of the Orthopedic Department of the Hospital of Thiene (Vicenza), Italy. In 2003, he was also appointed Chief of another orthopedic hospital in Schio, Vicenza, Italy, which, in February 2005 started as Regional Spinal Surgery Department, becoming the first Italian hospital in the north-east to have a spinal center. He has also been appointed Professor of Spinal Pathology at the University of Verona.
From 2018 Dr. Balsano is the Director of Regional Spinal Department, the main hub of spine surgery in the North East Italy, University and Hospital Trust in Verona.
Dr. Balsano is a well known international speaker, with hundreds podium presentations.
He is author of many publications in the medical literature and  international and he's a peer reviewer of many spinal journals, such as European Spine Journal, Spine Deformity Journal, Global Spine Journal, Journal of Orthopedic Surgery, IJSS,  and Journal of Orthopedics and Traumatology.
Dr. Balsano has performed an estimated 10000 spinal surgical operations, including deformities, degenerative conditions, cervical pathologies, traumatology, and cervical and lumbar herniated discs. His main interests are  spinal deformities, degenerative conditions of the spine and minimal invasive spinal surgery.