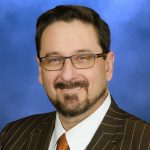 Morgan Lorio, MD, FACS
Since recovering from a significant spinal injury, Morgan P. Lorio, MD, FACS has become a renowned advocate for spinal injuries, an expert in spinal policy, and a notable pioneer in spinal technology. His specialties include cervical spine pathology affecting the upper extremities, artificial discs, motion preservation, advanced biologics, minimally invasive spine surgery (including adult deformity), basivertebral nerve ablation, disc modulation (regenerative medicine) and in issues particular to the female spine such as sacroiliac disease, coccydynia, and vertebral augmentation.
After receiving his Doctor of Medicine from Louisiana State University, Dr. Lorio completed two years of additional study in General Surgery, followed by a residency in Orthopaedic Surgery at SUNY-Buffalo School of Medicine and Biomedical Sciences. In addition, he served a Hand and Microsurgery Fellowship at the Hand Center of Western New York, a Spine Surgery and Clinical Research Fellowship under Dr. EH Simmons at Buffalo General Hospital, and a Visiting Clinical Spine Practice Fellowship under Dr. Hansen Yuan at SUNY-Upstate Medical Center Syracuse. He holds certifications by the American Board of Orthopedic Surgery, Subspecialty Certificate in Surgery of the Hand (formerly CAQ Hand), and the American Board of Spine Surgery.
As a leading expert in his field, Dr. Lorio has published numerous peer-reviewed articles and several book chapters and, in 2020, was invited to serve as Deputy Editor of Society Guidelines for the International Journal of Spine Surgery (IJSS). He has also contributed his spinal expertise internationally as a lecturer and as the principal investigator on multiple FDA clinical trials.
Dr. Lorio has proven himself to be a committed professional with a strong record of advocacy on behalf of spine surgeons and patients. In 2012, Dr. Lorio was named Chair of the ISASS Task Force (Coding & Reimbursement) and has successively been very active as a CPT/RUC Advisor, MACRA Committee Member, Spine Work Group Member, and AMA House of Delegates Member. He has advocated at Capitol Hill, CMS, and OMB (the White House) on behalf of the spine community and has been instrumental in developing procedural guidelines/policy statements for ISASS. For his work, in 2017, Dr. Lorio received the First Distinguished Service Award from ISASS, sponsored by Gunnar Andersson MD and his wife.
Following his relocation to Florida in 2019, Dr. Lorio was selected as Castle Connolly Top Doctor for 2020-Orlando, FL after previously being selected as Top Doctor for Nashville, TN.