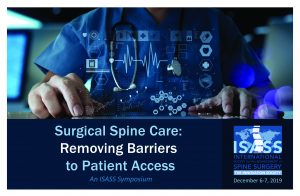 Surgical Spine Care: Removing Barriers to Patient Access An ISASS Symposium
ISASS invites you to participate in this new educational opportunity, to bring the spine care community together to discuss how to best navigate the business, regulatory and reimbursement challenges in a data-driven, value-based health care system.
The meeting will highlight value-based care, navigating bundled payments, assessing outcomes, ambulatory opportunities and insurance industry challenges.
This symposium will explore:
Measuring outcomes in spine care
The economics of an ASC
How to treat complex cases in a changing world
Medicare and commercial bundles
A peek at the future of surgical education
Methods to partnership with all shareholders in support of value-based care
And most of all, how to do all this while still delivering value.
When: Fri., Dec. 6, noon to 5 p.m. and Sat., Dec. 7 from 8 a.m. to 12:45 p.m.
Where: AMA Executive Center, 1601 Broadway, New York, New York
Price: Members-$300, Non-members-$550
To view the full agenda, click here.
The AMA Executive Center is sharing its discounts at area hotels; you can access the links to hotels and codes to use here.
For sponsorship opportunities, contact Executive Director Nikki Golden, CAE, at (847) 384-4216 or by email at golden@isass.org.
Course Director: Alex Vaccaro, MD, MBA, Rothman Institute